Finding a Thai lady online
This is a Sponsored Blog Post written by the Sponsor. But read on! There is a special offer for Sukhumvit Entertainment's readers.
When it comes to dating online Thailand has many options. There are pay only sites where you need to pay to even make contact with a girl, free sites which are overrun with spammers or Filipinas, or you can look at ThaiFriendly.com which is a "freemium" dating site which opened up about three years ago.
Since opening up ThaiFriendly has grown to over a quarter of a million members and there is quite a variety of girls online. Whether you want to find yourself a nice office girl or prefer life on a farm tending to a loyal buffalo there is someone for you.

However like with all sites you should probably get a little experience before making any big commitments as there are pay for play girls hiding online in disguise. Usually it pays to be honest and up front with your intentions. If you are not looking for anything serious then there are plenty of Thai girls who meet your specification!
If you like ladyboys then ThaiFriendly has a huge stock. If you show a little flesh then you will have ladyboys contacting you in large numbers and will be fighting them off! Fortunately if you don't like ladyboys you can choose to be invisible to them (unlike a night in the plaza where you may not be safe from their mitts).
Dating online is a numbers game. First you should set yourself up a good profile. Put a little time into it since it is the first thing people see about you and will be the deciding factor on if they choose to message you or not. You should use a clear picture and your profile text should give an idea of what a girl can expect if she is to be dating you. Rather than saying what you want, say what you are and what you do. Build an image for the cute Thai lady reading your profile and let her imagine being with you. Photos of you doing cool activities or in nice places are a bonus. Maybe even a photo of you with an attractive girl.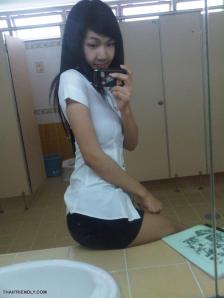 After you have your profile set up its a numbers game. If you choose to use ThaiFriendly for free (which is very possible) then you can send one message every ten minutes and contact as many girls as you have time for. The more messages you send the more replies you get. Don't be too quick to get them onto Skype or you may end up with a bloated Skype list of luke-warm contacts who you are only semi-interested in. Also asking for contact details immediately can give an air of desperation.
If you do choose to signup as premium you will get a lot more features such as being able to browse the site as offline and send unlimited messages as well as access their chat and webcam. Sukhumvit Entertainment has arranged a 15% off voucher for you guys too – just enter "sukent" on the upgrade page to get the money off.
If you are a little jaded from the bar scene or just want to try talking to some "real" girls then try it out!